News
28-07-2020
Free touchscreen cleaning kit with every CTOUCH Riva
Free touchscreen cleaning kit with every CTOUCH Riva – because We Care
August 1, 2020 - CTOUCH UK Ltd, one of the market leading touchscreen manufacturers globally has today announced that all its latest touchscreen models in the UK will ship with a specially developed screen cleaning kit.
The initiative comes as a result of the recent COVID-19 pandemic, and the importance of keeping hands and surfaces clean.
Gregg Ringer, Head of UK Market Development for CTOUCH commented: "In a time where surface cleaning is at the forefront of everyone's minds, we want to ensure we are doing our bit to help our customers. As a company, we have launched a series of initiatives which ensure we are as environmentally and socially aware as we can be, and this is another example of many more to come. We want to provide peace of mind for our users, so they are as comfortable as possible when using our new Riva touchscreen."
The branded 'Wipe & Shine' kits will ship with all the new CTOUCH Riva touchscreens. For customers who have already purchased, they can also claim theirs through the CTOUCH website.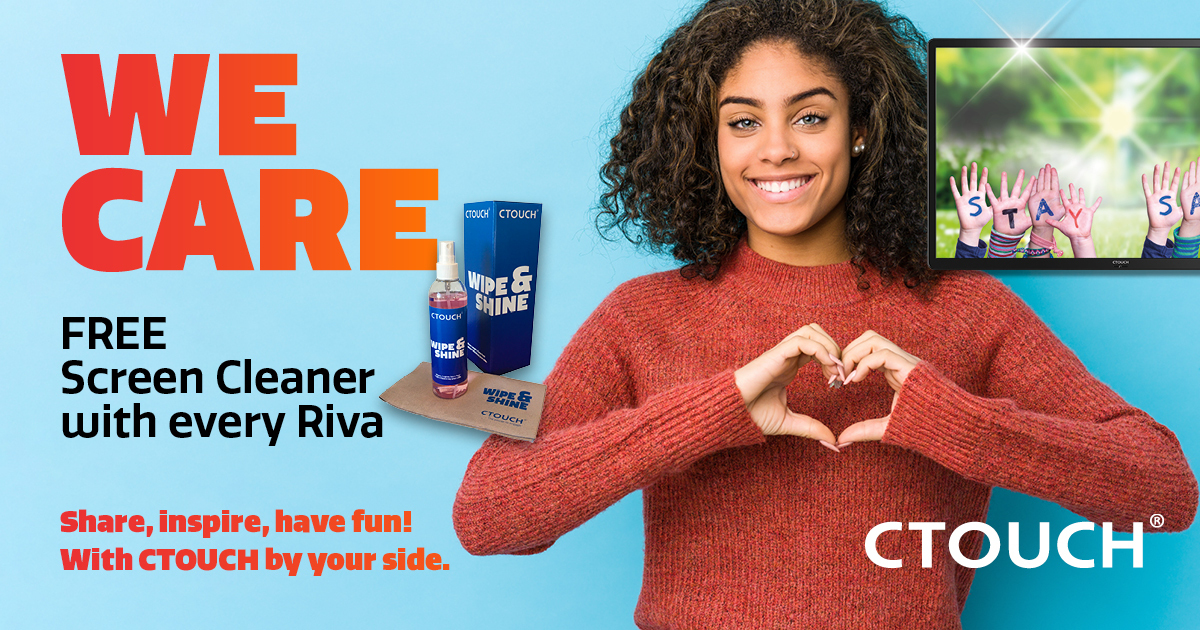 About CTOUCH
CTOUCH is an innovative and market leading interactive displays manufacturer, focusing on large format touch displays and interactive touch solutions. Thanks to its continuous innovation, CTOUCH brings the power of touch and interactivity in any working environment and enhances effective group collaboration. CTOUCH vision is to foster happiness through extraordinary interactive experiences in collaboration and knowledge sharing. In every office, classroom, wherever there is a moment to work and learn with others, CTOUCH is always there. Supporting people to their full potential.
Get a fresh perspective on interactivity and experience how CTOUCH smart innovations are transforming businesses – today and in the future. For more information, please visit www.ctouch.eu or check out our social pages: LinkedIn, Facebook and Twitter.