Hybrid meetings
Meet your match!
A meeting with everyone in the same room is so 2019! Get with the times and set up your hybrid meeting room so the video conference can start with a tap.

UNLOCK THE POWER OF HYBRID MEETINGS
INSTANT VIDEO CONFERENCING
Start your hybrid Teams, Zoom, Google Meet or Webex meeting with a single tap to not lose precious time.

INVOLVE EVERYONE
Engage remote colleagues as though they were in the room through interactive polls, quizzes and games.

BRAINSTORM & WHITEBOARD
Capture ideas with both in-room and remote attendees with your video conference whiteboarding tools

ANNOTATE
Make notes over any Windows application and share them with all participants.
CLEAR AUDIO AND VIDEO
Hear and be heard. See and be seen. Extend your device with premium sound, video, and touch.
ULTRA-INTUITIVE UI
Looking professional comes down to getting started without a user manual, thanks to the touch-based ultra intuitive user interface.

Hybrid meetings - Meet your match!
Touching meetings
Touch increases the effectiveness of your hybrid meeting and lowers the technology barrier. Everyone can walk up to the interactive screen and add notes or comments in an intuitive way, or participate from their own device at home. You can annotate over Windows apps to strengthen your ideas, hold live quizzes to get everyone fresh and sharp and launch a Teams, Zoom, Google Meet, Webex or whatever meeting with a single tap.

identify tech issues as key challenge
consider online meetings less stressful
Tech that helps
"I don't understand this tech so I'm not using it, I don't want to embarrass myself!" Fear not: an interactive screen works intuitively with all your favourite apps. Add updates to project management software like Miro, Microsoft Planner, Azure Devops, or Monday. Annotate over PowerPoint presentations or PDF documents. Want audience participation? Kahoot! or Mentimeter!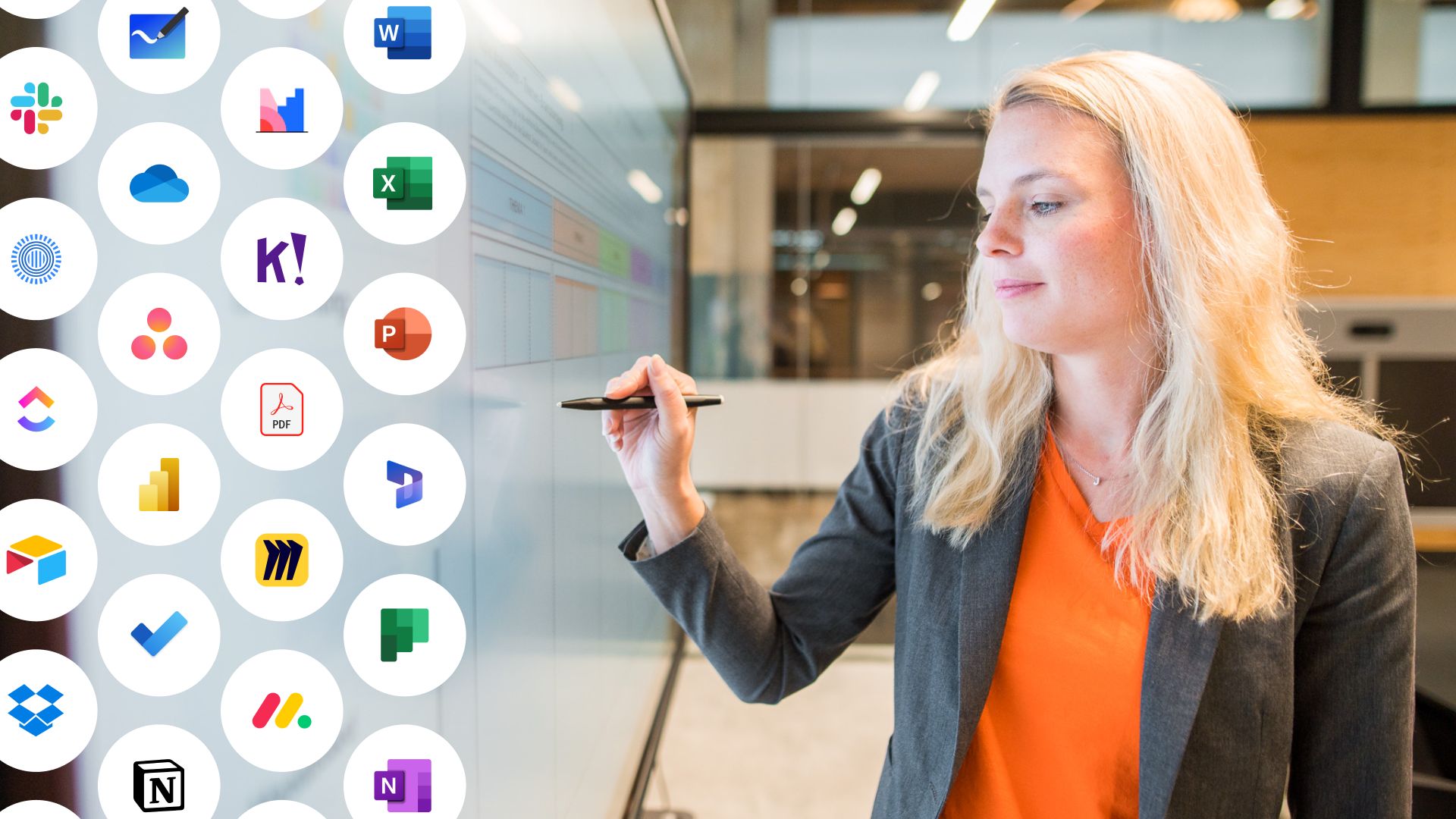 Hybrid meeting setup solves...
Using this hybrid meeting room equipment eliminates the need for:
Room booking tablets outside the doors
Microsoft Teams Room table controller
AV setup control box on the wall
Flip charts with content you can't share digitally
Complicated solutions for wireless screen sharing
Extra mice, keyboards, microphones and speakers
Laminated manuals to explain the "easy" online meeting set-up
Because why make things harder than they need to be?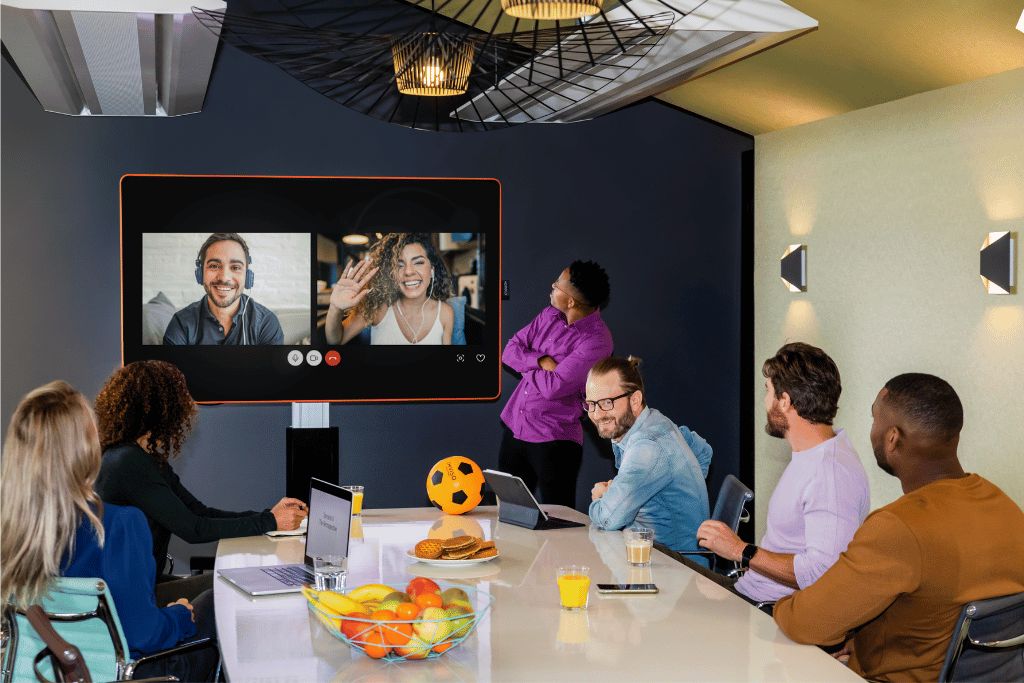 Video conferencing solution
An interactive screen is the ideal equipment for your video conference room. Start Teams, Zoom, Google Meet, Webex from the screen or from your own device. Integrated JBL® speakers provide crystal clear sound, the built-in microphone lets everyone in the room be heard, apps can be shared and interacted with on the screen. You just need to complete this hybrid meeting setup with your camera of choice.

Build your ideal
meeting room
Looking for the ideal combination of an interactive screen, mount solution and camera for your hybrid meetings?