News
02-10-2020
CTOUCH introduces new touchscreen platform designed for business: the CTOUCH Canvas
CTOUCH proudly introduces a secure Designed-for-Business touchscreen: the CTOUCH Canvas. The Canvas comes with a patent-pending CTOUCHABLE™ design. This unique design invites users to walk up to the screen and start collaborating right away.
The CTOUCH Canvas sets the benchmark as THE large format touchscreen platform for all-in-one collaboration boards. The Canvas incorporates optical bonded InGlass™ from FlatFrog which delivers an ultra-fine writing experience. The touchscreen is scalable with our BRIX solutions and has a NO-OS secure design. This makes the Canvas the pinnacle of interactive flat panel displays (IFPD) for instant screen sharing, whiteboarding and video conferencing. The CTOUCH Canvas is available from the second week of October.
"At CTOUCH we believe that interaction leads to employee engagement and productivity. Especially in these unimaginable times, with so many of us forced to work from home and feeling the effects. We need the best workplace tools possible to help remote teams to stay connected. The Canvas with its CTOUCHABLE™ design triggers teams to engage in interactive team sessions. With this touchscreen it is easy to upgrade any meeting room to a modern cloud collaboration and video conferencing space," zegt CTOUCH CEO Remmelt van der Woude.
CTOUCHABLE™ design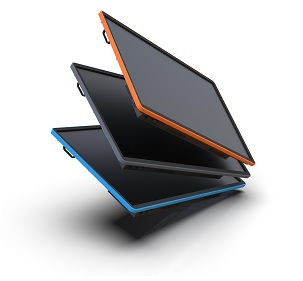 The Canvas' unique CTOUCHABLE™ design invites users to interact with the content on the screen. From the coloured rugged rubber and soft-touch textile frame, to the touchable buttons and intuitive menu. It all works together to foster energising meetings and to bring innovation and teamwork to life! The rubber frame is available in three colours: regal orange, electric blue and midnight grey. The Canvas frame and its innovations are patent pending. In addition, the CTOUCH Canvas is eligible for an iF Design Award.
Ultra-fine writing experience
Write, sketch and annotate like never before! The optical bonded FlatFrog InGlass™ touch technology delivers a high-precision pen-on-paper-like writing experience. Simply use the passive pen or a finger and write or erase as fast as possible. Creating ideas together? No sweat! Write smoothly with up to 4 users simultaneously. Combining FlatFrog's InGlass™ technology with CTOUCH's unique design allows for a truly intuitive experience.
Security by design
The Canvas is designed for business grade security. This is why it comes without an operating system or NO-OS. No software updates are needed. No data is stored on the display. And no apps can be installed that could leak data or grant access. To double-down on security and lock the ports the data, video ports and the settings menu can be disabled or locked.
Business connectivity & management
Full control and manageability; the USB-C port provides easy one-cable presenting for video, touch, charging and internet. For management and local control, the RS232 interface and IP management is available. To integrate the Canvas in an enterprise network, combine it with a CTOUCH BRIX or Windows 10 OPS fitted with standard MDM and security suites.
Full-room audio with the integrated JBL® speakers and microphone array
Amaze the audience and immerse them with the JBL® 80 Watt speakers. They deliver Live-stage (virtual) Surround sound. Even in the back of the room the sound is impressive. For video conferencing collaboration the far field microphone array is already built-in.
Easily upgrade with CTOUCH BRIX
The CTOUCH Canvas is a modular touchscreen. It can be upgraded over time with our collaboration solutions CTOUCH BRIX. Ready to bring Microsoft Teams or Zoom Rooms into your meeting space? Simply fit the CTOUCH Canvas with a BRIX module and you're set to go. With the CTOUCH Canvas companies are prepared for the workplace of the future!
Sustainable? Check!
We're on a mission to minimize the CO2 footprint of our products. So, the Canvas comes with an A/A+ energy label and a circularity passport detailing minimal material and energy usage. The CTOUCH also complies to ISO 9001 & 14001 standards. And that's not all. With the built-in human presence detection module the touchscreen automatically turns on and off when you enter or leave the room. Saving money and our planet!