Cases
Public primary school De Vlinder spreads its digital wings
A new building for De Vlinder Open Primary School in Baarle-Hertog, Belgium, also meant designing and setting up a new ICT infrastructure. Our partner VanRoey.be knew how to handle this. The choice for touchscreens like the CTOUCH Laser Air and CTOUCH Riva to replace beamers was made very quickly.
About the Primary School De Vlinder
As a 'community school' De Vlinder Primary School (part of KOBA) wants to be a social space, a meeting place in Baarle-Hertog. Day in and day out, together, an open and caring school for the children. A workplace where the human aspect is paramount and where high quality education is provided. Together with 142 nursery school children (6 classes) and 233 pupils in the primary school (12 classes), 42 staff members, supported by a large group of volunteers, will now take on this challenge in a new school.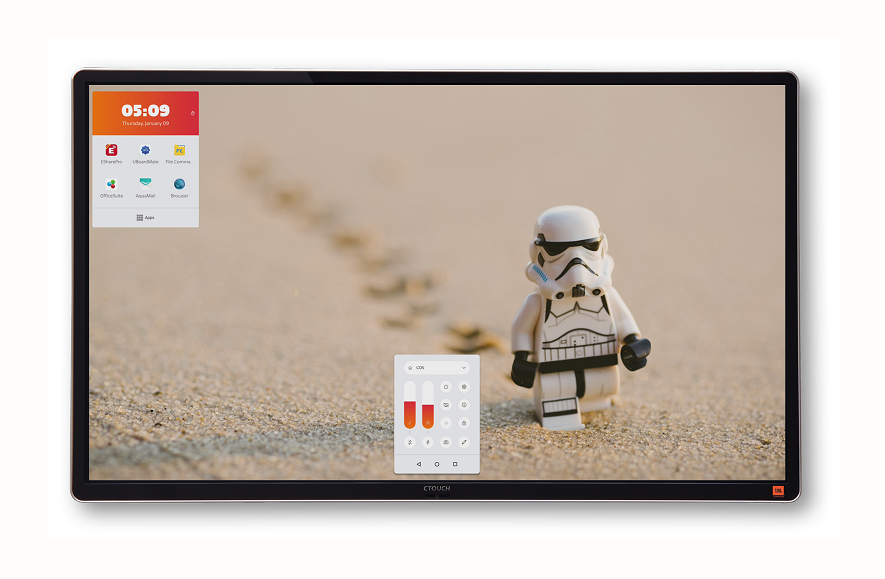 The search for a new IT partner and interactive solutions
Wim Van den Heuvel, care coordinator at VBS De Vlinder, is proud of his unique school. They were given the opportunity to move into a new building. Setting up an ICT infrastructure was a must. The search was on to find an ICT coordinator with technical and didactic knowledge. A reliable partner such as VanRoey.be was also asked to carry out the school's wishes with regard to the digital infrastructure.

"A contemporary school needs a well-founded vision and infrastructure in the field of ICT. Our children are growing up in an increasingly digital world in which the development of their media awareness (media wisdom, media literacy and media skills - technical and instrumental knowledge) must be supported by a future-oriented view of society. Not such an easy task for a primary school in a constantly developing society", says Wim Van den Heuvel. Nevertheless, the school seized this opportunity with both hands!
"We were looking for 3 things in our search for an ICT partner: first of all, the company must be able to think together with us, tailored to the school.
Secondly, we were only looking for solid solutions for the school's requirements.
Finally, we were looking for a professional and efficient contact"
How the contemporary living and learning environment received a digital boost
The core of the school's beating ICT heart was equipped with a server system. And both a wired and a wireless network were used to teach fully digital lessons with our touchscreens like the CTOUCH Riva 65 inch. In this way, the contemporary living and learning environment of VBS De Vlinder is given an even greater boost. During the first use the touchscreens felt very natural.
"User-friendliness, solidity, high performance stability...
There were many reasons to choose these digital solutions"
Both teachers and pupils experience the power of touch in writing, maths and countless other subjects and topics. In addition, the school is a very light building with a lot of sunlight coming in. Compared to beamers, a touchscreen was preferred because of its greater light intensity. They also notice that it works very instinctively for the children. The familiarity is there as if it were a large iPad. The touchscreens and the use of laptops are now an integral part of the school. With this, VBS De Vlinder has fully embraced the education of the future.