Cases
Interactive touchscreens provide Kornmarkskolen spectacular lessons
Kornmarkskolen is a local school with two annexes in Denmark. One in Skævinge with all groups, and one in Lille Lyngby with groups 0 to 6. It's a public school situated in rural and nature-friendly surroundings. Here, it's all about happy pupils who are given room to learn and grow.
However, it's not only the pupils themselves who are growing. The school is also going through some serious changes. The number of pupils is increasing, and this is especially noticeable in groups 7 to 9. Thus the school thought it was time to renovate and modernise the classrooms from groups 7 to 9. And that was the main reason for Kornmarkskolen to leave the old and dusty projectors behind and switch to CTOUCH Riva touchscreens.
New classrooms ask for new (modern) tools
Today's pupils are growing up in a very advanced world. A world where digitalisation is a fact. At Kornmarkskolen, the traditional classrooms have made way for more modern and fresh classrooms. And subjects such as physics, science, handicrafts and many others have been given a new look.
But these new classrooms obviously require new tools. And not unimportant either, these tools must support the teacher in making the lessons more fun, playful and interactive. Hmm, sounds like it was high time to replace those old and dusty projectors. Kornmarkskolen had already been experiencing problems with projectors not working, where the lamp had to be replaced. Or projectors where the brightness was so low that one could hardly see an image on the screen.
CTOUCH Riva to the rescue
As a teacher, you work extremely hard, day in and day out, to motivate your pupils to get the best out of themselves. And it's no fun at all if your devices and systems do not cooperate.
"With the CTOUCH screen we have a more reliable solution which does not requires a lot of maintenance and always works."
- Mia Keil Holmbach, Educational IT supervisor and teacher
Kornmarkskolen was looking for user-friendly touchscreens with good speakers and no extra costs for educational software. Thanks to our partner Atea, a few amazing 86'' CTOUCH Riva touchscreens are now hanging in the classrooms of Kornmarkskolen.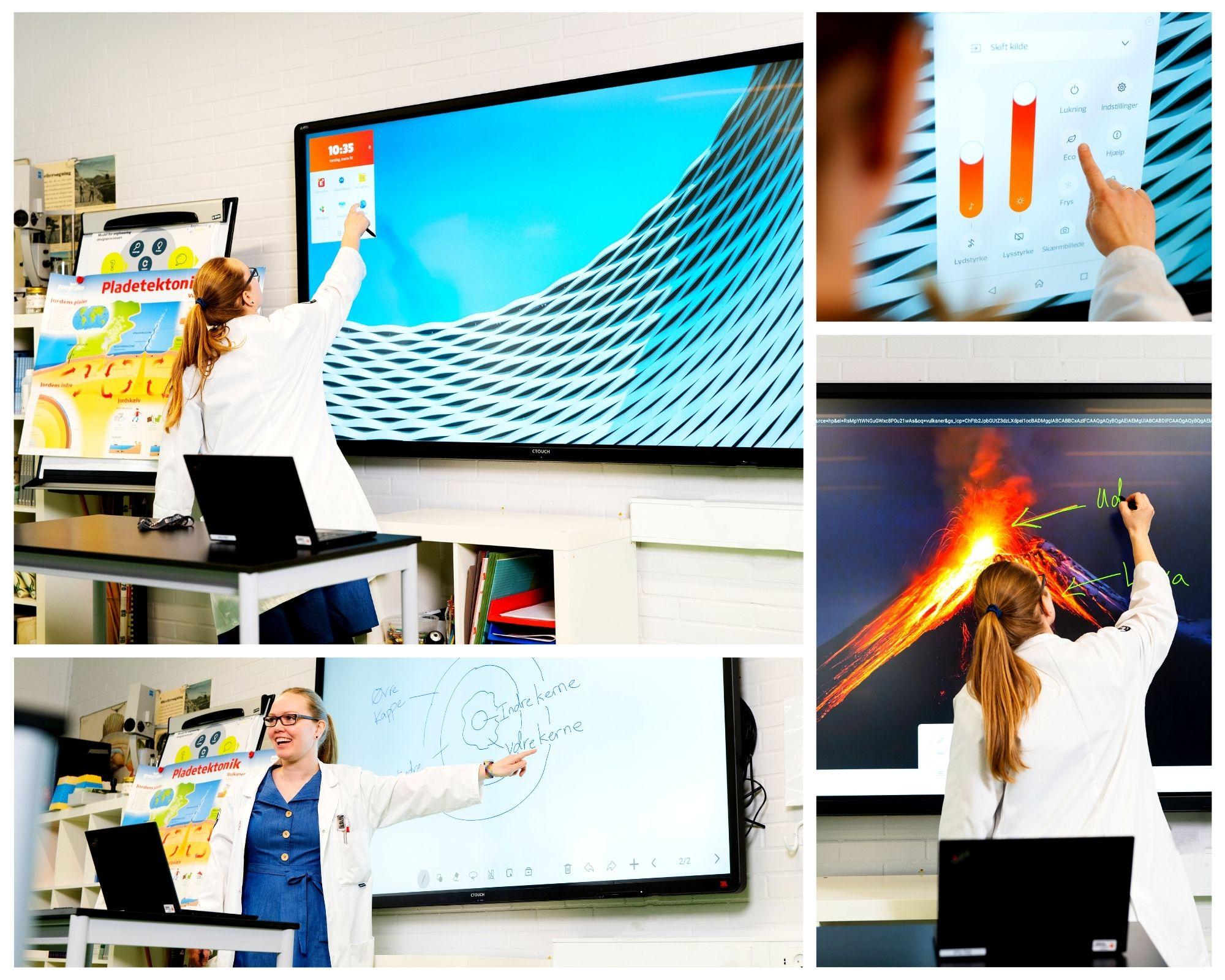 "I am really glad I can turn the annotation tool on and off as I wish. This way I can always write comments on the screen no matter what I am doing or what I am showing on the touchscreen."
The CTOUCH Riva brings lessons back to life at Kornmarkskolen. From teachers to pupils, everyone can work with it. At the touch of a button, they have access to all options on the touchscreen. And sharing the teaching material has never been easier.
The teachers of Kornmarkskolen experience the ease of use of the CTOUCH Riva touchscreens. They do not have to fiddle around with projectors that do not work. And there's no need to connect computers anymore. At Kornmarkskolen, they can once again focus on what they do best. Teaching!