Blog
21-06-2023
The Most Sustainable Touchscreens for Your Office
Investing in sustainable office equipment is essential for a modern working environment. Going green is not something just for hippies anymore, more and more it is on the mind of the younger generations in the workforce. Sustainability needs to be woven into the fabric of the company, through all layers: policy, CSR, supply chain and most importantly for this article: office operations. That's where our interactive displays enter the story. We've rounded up what exactly makes our corporate solutions the most sustainable on the market.
CTOUCH Canvas: no OS, no worries
CTOUCH Canvas is the most secure interactive display in our product portfolio. How? Well, Canvas is like the Scarecrow in The Wizard of Oz: brainless. Having no Operating System, this interactive display requires either an external device (i.e. your laptop) or an OPS. What it does not require is firmware updates or upgrades. As long as the hooked-up device works, Canvas works. A touchscreen that's always up-to-date and works up to 10 years & beyond, how green is that?! Consider Canvas an extension of your own device, with the added benefit of the power of touch of course.
A lack of Operating System is not only sustainable, but also about as secure as an interactive display can possibly get. Nothing is saved on the display (brainless!) so nothing can be stolen. Data breach risk? Zero. Security officers happy? 100%. But don't believe just us: Canvas' security baseline is independently audited by Grant Thornton.
Any other green features? Yes!
You can change the settings to let the Canvas automatically turn itself off if no source is detected in X minutes (you decide how long is acceptable in your meeting rooms)
The screen is set to eco-mode by default, lowering energy consumption and costs significantly. On average, Canvas is on average 45% more energy efficient than similar models on the market.
88% of the materials used are recyclable
Discover the Canvas' CO2 impact in its Sustainability Passport
What it does not have is a literal green feature. Sorry reader, the CTOUCHABLE™ design is only available in Regal Orange, Electric Blue and Midnight Grey (while stock lasts).

Discover the CTOUCH Canvas, the safest solution for large corporations.
CTOUCH Neo: easy to go green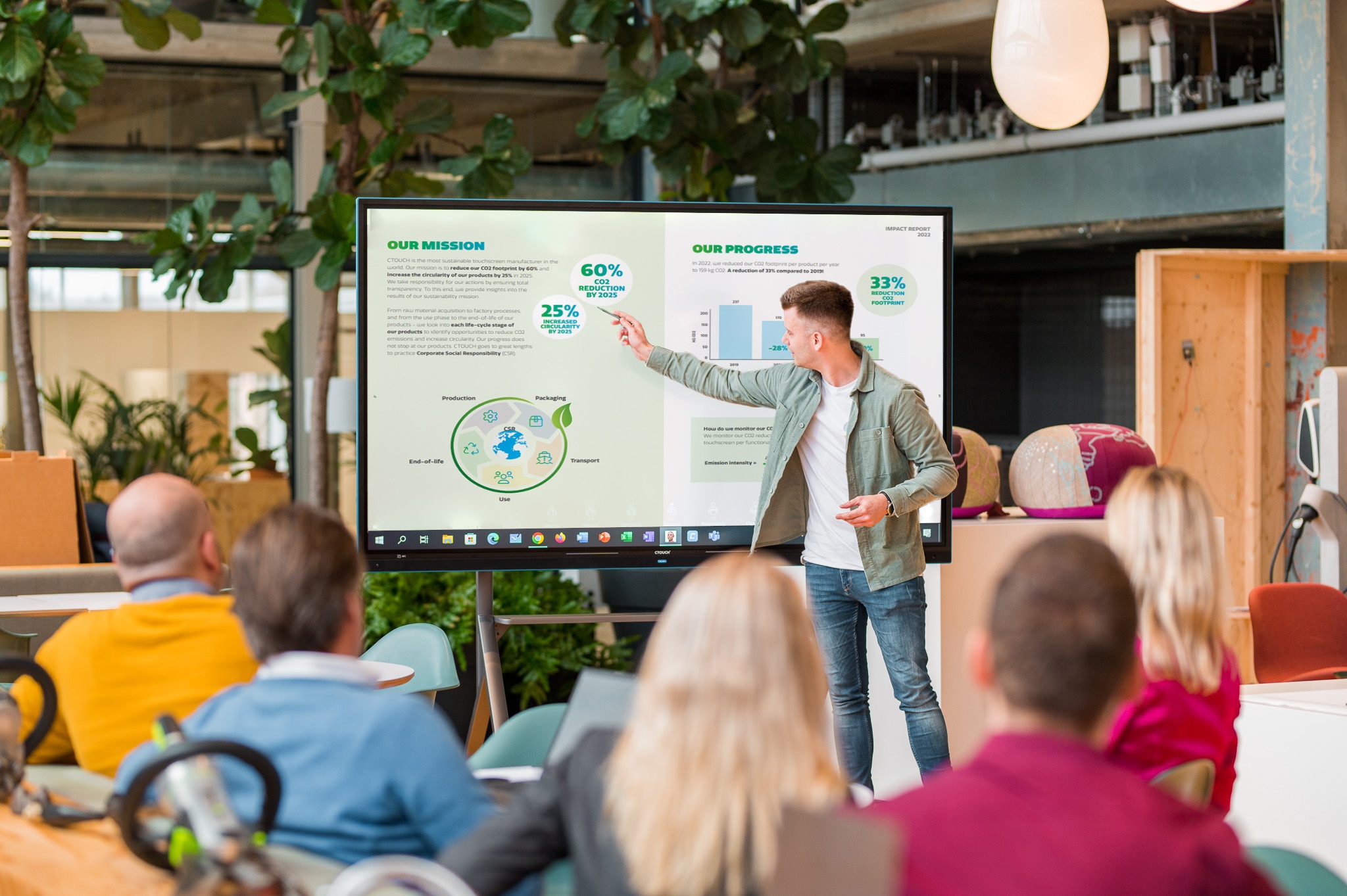 Neo's the newest addition to our corporate portfolio, and as the new kid on the block is a bit of a show-off with just how sustainable it is. Starting with the material: the glass panel of the 55", 65" and 75" screen sizes is only 3mm. Neo's packaging has been significantly reduced in size by taking away unnecessary cardboard and such. Neo itself is packaged in foil instead of plastic. All this added up allows us to transport more Neos per container compared to the Laser Sky / Nova resulting in roughly 30% less CO2 emitted. The ocean's fishes are very happy with that.
Aside from weight loss, the packaging also received a makeover: the accessory box is no longer fully printed. It looked nice, but cardboard just screams sustainability.
Now, Neo's sustainability features in practice:
Smart on/off! Turns on when you need it, turns the back light off when you don't. This saves a surprisingly significant amount of kWh and €€€.
Eco-mode is on by default, so even if you're too lazy to ever dive into the settings menu, you'll still be saving loads of energy and money. On average, Neo has 41% lower energy consumption than competitors. You're welcome.
You can make sure Neo turns off automatically if it does not detect a source within X minutes. (You do need to dive into the setting for this one, sorry.)
Every quarter year the latest Android security patches are integrated in the firmware update, to ensure Neo stays safe and secure to use for a whopping 10 years (or even longer, we're not fortune tellers).
If Android is no longer supported, the OS is upgradeable via a module or main board upgrade.
Want to know more? Check out Neo's sustainability passport to gain insight into its CO2 impact during its entire life cycle.

Meet CTOUCH Neo, the easiest-to-use solution for SME
Want more sustainability?
"But I want more sustainability! I want to be better than Captain Planet! I breathe SDGs!!" Don't worry darling; we've got you covered. Sustainable superhero, meet CTOUCH Heartbeat. CTOUCH Heartbeat As-A-Service programme is a solution that lets you maximise the value of your touchscreens for far longer than you think! Sign up your interactive touchscreens for CTOUCH Heartbeat and receive up to 10 years warranty and a lifetime of functionality, security, and firmware updates. Oh, and? We plant a tree for every touchscreen in the programme.