Blog
22-07-2021
A peek behind the CTOUCHABLE™ design curtain
Love at first touch. Is that even possible to experience this with a touchscreen? Yes, you can! Especially with the CTOUCH Canvas which has the unique CTOUCHABLE™ design. Either from a distance or up close, it stands out in your workspace and you're immediately triggered to touch the screen. So, what is the thought behind this touch-first design and how did it or will it end up in your meeting room? Rhys, one of the masterminds behind the CTOUCHABLE™ design, will give you a peek behind the CTOUCH curtain.
Rhys, can you introduce yourself and talk us through your typical day at CTOUCH?
My job at CTOUCH is to design our physical and digital products / services. Design pinpoints the future needs of users and business to craft memorable products & experiences that unlock new markets. Main objective is to improve your product development and keep you relevant in a connected world.

A typical day could include sketching out new ideas for the innovation team, 3D modelling a new product accessory, designing a complete operating system update, or developing our user research approach through things like customer engagement questionnaires. All with the goal of creating products that encourage knowledge sharing through touch experiences.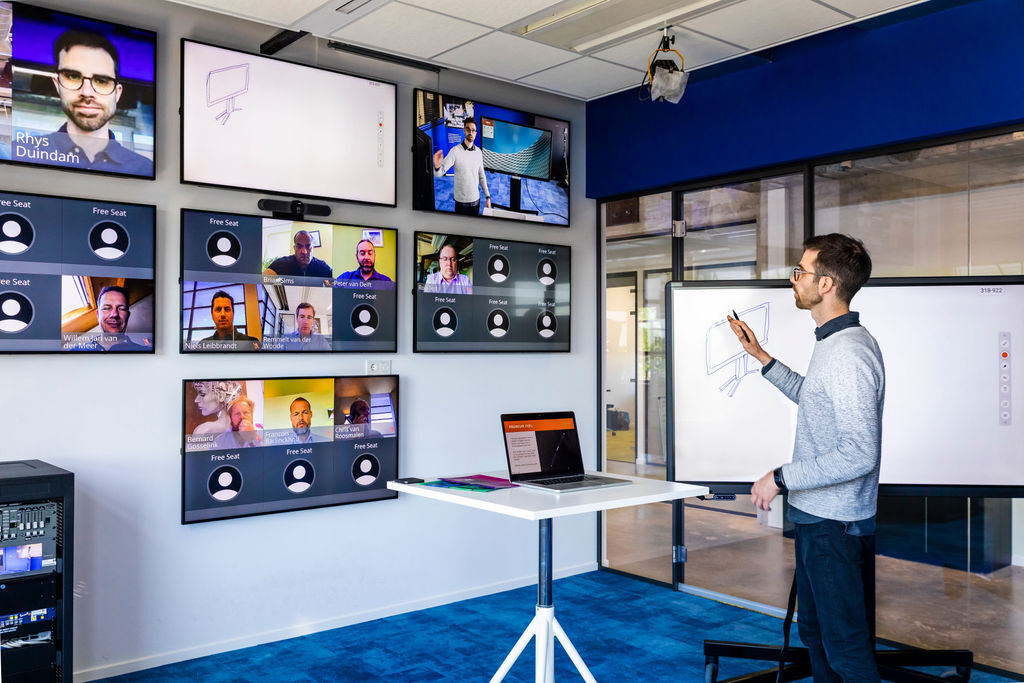 Where did the idea for the CTOUCHABLE™ design originate from and what is your role in this?
When I first got introduced to CTOUCH I was a freelance Industrial Designer and UX Designer. At this time, Remmelt (CEO of CTOUCH) came to me with a challenge: "How can our displays encourage people to touch them using design? We believe that this first touch will trigger collaboration and knowledge sharing."

I deep dived into the market and explored the reasons why users might not immediately understand that they could touch the display. From here I found a key challenge: people use their past experiences to guide their interaction opportunities with a device. You see, all large touch displays are similar in shape, proportions and finish to a traditional television. Anyone who has been near, or grown up with any of these traditional flatscreen televisions knows that you must not touch them!

We needed to break this mental model… by making CTOUCH displays seem different from traditional televisions, and by teaching users how to touch the display using only colours, materials, and finish on both the physical product, and the digital experience. After more than a year of research and development in making our products 'touchable', we decided to collect and share our knowledge in these principles through our design language document 'CTOUCHABLE'.
What makes it that unique, according to you? And how do we make a difference in the field of digital collaboration?

If you look at our industry, there are very few companies that have the guts to take this step. It's a scary decision to be different when everyone else makes black/white/silver metal displays. And then a designer comes by and says, let's wrap the display in strong splashes of colour, make everything slightly angled, and wrap it in cloth… If you compare the original design sketches with the final product, you can't help but admire that nothing was tamed in the process.
There are actually a couple of things that make the CTOUCHABLE language different than other design languages. A design language is essentially a framework that ensures a consistent result is made in design. In the touch display sector these design systems are made for personal devices like tablets, laptops, and mobile phones. This is actually where the biggest difference lies.. CTOUCHABLE is a design system for displays that are so large that the distance you stand from it influences your ability to use it. And CTOUCHABLE is a design system for a device that is shared amongst many people. The rules used for your mobile phone don't work the same in these circumstances, and result in confusing use. Unfortunately, most large touch displays still lean heavily on the rules of personal devices.

And the more obvious difference is how we translated this design system over to our flagship product; the CTOUCH Canvas. The colorful rubber layer pulls you in from a distance, and a refined textile texture on the front of the screen makes you want to touch the screen edge. From here, touch-sensitive icons on the side of the screen introduce you to further touch experiences in the digital world. In fact, I believe we may be the first large display using this combination.
What makes it for a CTOUCH user that special to have a CTOUCHABLE™ design in their hands?
CTOUCHABLE design is about focusing on the tactile experience. If you have ever looked for wine, and chosen a bottle simply because of the texture on the label.. well that is the experience CTOUCHABLE design tries to create for a user. And when a user reaches out and makes contact with this Touchable display, they are rewarded with interactivity on the display. This is a simple, yet rewarding experience.
Next to this, there are functional benefits as seen on the CTOUCH Canvas. The vibrant rubber edge feels comfortable to lean against, adds padding for safety, softens impact damage, and hides scratches with its consistent color. The entire frame also gives the impression of a thinner screen and is made from hygienic, wipe-cleanable and long lasting materials.

We also have some less obvious special features associated with CTOUCHABLE design in the Canvas:
The remote control sensor is hidden beneath the textile upholstery. This allows for a clean, and seamless design with no special sensor windows. You only see what is touchable;
All the touch sensitive control elements have been placed on the left, front-facing side of the screen. This way, anyone wanting to change settings can do so without blocking the screen with their body and disrupting the collaboration of other people at that moment;
The Canvas Pen empowers you to write more accurately than your finger is capable and has two tips that allow for thick & thin pen use. It also has a larger, more solid metal body that improves handwriting and balances premium feel with comfort for longer writing sessions. Lastly, It magnetically clicks onto the front of the display for easy access, & uses an orange ring to keep it visible against the textile;
The Webcam Stage magnetically snaps onto either side of the display at any height to allow for a more personal meeting experience where you look at each other from eye-level;
And a display designed to create a Pen-on-paper-like experience.
How did you experience the whole design phase?
CTOUCH was a particularly daring, involved and enthusiastic participant in the design process. It's not often you get to work with people like this, and that made it that much nicer when I was offered a contract.

Designing the CTOUCH Canvas and the CTOUCHABLE design language were complex tasks that took months to get right. But that paled in comparison to the challenge of bringing the product to reality. It needed to be a seamless integration of electronics, display and non-standard materials for a touch display. This meant that the entire product had to undergo a custom production process and this required a complete rework of CTOUCH from the inside out. And that said, the high quality feel of the end result was well worth the effort!
What are you most proud of regarding the CTOUCHABLE design?
I'm most proud when I see visitors come by CTOUCH. Whilst walking down our halls they detour to a CTOUCH Canvas mid conversation, reach out and touch it.. exploring the materials and triggering the screen to activate. This is a fantastic feeling because it consistently proves that the theory works in reality.
Curious to know how the CTOUCHABLE™ design would really feel and work? We're always happy to give you a demo.