News
02-01-2023
Why CTOUCH is #1 on sustainability in the AV industry
We're the most sustainable touchscreen manufacturer in all of Europe, nay, the world! Our mission is to reduce our CO2 footprint by 60% and increase the circularity of our products by 25% by 2025. We're well on our way to reaching these goals and we're proud of what we're doing for a more sustainable world.
Why commit to sustainability? Allow our CEO and Chief Sustainability Officer Remmelt van der Woude to put his planet-saving passion into words: "CTOUCH is focused on making our touchscreens more sustainable every day. We believe this is commitment every manufacturer should be after. Our environment is all we have. If we and you don't take care of it, who will?"
Our journey towards sustainability started in 2018. We introduced the CTOUCH Circle, the fundamental element that helps us give meaning and substance to our vision: add value for our customers. The CTOUCH Circle consists out of four themes: Customer Engagement, Future Proof, Safe & Secure and Sustainability. We make it our mission to excel and innovate within all of these topics.
For sustainability, we've initiated incredible initiatives. We focus on 4 areas that will help us in achieving our sustainability goals: the production phase, use phase, end-of-life phase, and Corporate Social Responsibility (CSR).

Produce with care
Sustainability starts at the beginning. We have set 15 sustainability requirements to ensure that all our strategic suppliers meet our standards in areas such as material use, circularity, recycling, repairability and renewable energy use.
We looked into decreasing the size of our packaging, enabling us to transport more products per container. On a yearly basis, we save more than 100 tons of CO2 emission on the transport of our 86" models, a reduction of almost 30%.
Use responsibly
We help our customers to use our products efficiently, greatly benefiting them by lowering the Total Cost of Ownership. Through product innovation, the integration of a human presence detection function and eco mode settings in the Canvas, Neo and Riva, we reduced the average power consumption per screen (in operation) by 8% compared to our previous generation screens.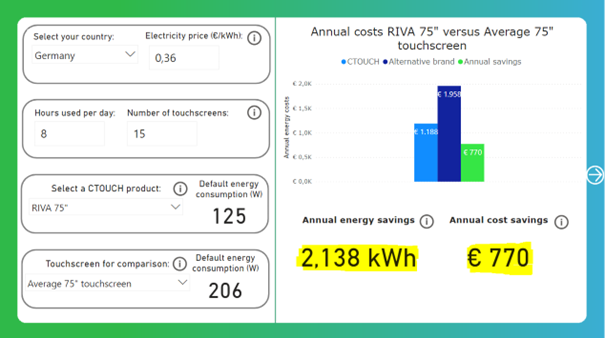 CTOUCH touchscreens always come in eco mode by default. To show users how much money they can save on their electricity bill when choosing CTOUCH sustainable touchscreens over another brand, we introduced our Energy Saving Calculator.

End-of-life? Next life!

Modular building and giving products a next life are part of our efforts to give our products the long lives they deserve. We have extended the 7-year lifetime with 3 years for all new products sold as of 2021. Our promise is that at least 50% of our screens are still functioning after 10 years to customers' satisfaction. This will reduce the annual CO2 impact of our touchscreens by 12%.
As part of our Heartbeat As-A-Service programme, we also refurbish end-of-life products. Ultimately, each product gets a new home: a modern meeting room or classroom. If a product cannot be refurbished, we look into re-using parts.
True sustainability through transparency
CTOUCH is committed to making a positive impact on the future through transparency. We put our belief into action by introducing a myriad of sustainability initiatives. With these tools we're spreading awareness about our products' CO2 impact. We're building trust and triggering dialogue on (re)using our touchscreens. Internally, these tools empower us to make sustainable choices concerning future products, benefiting both the environment and our customer.

We perform a Life Cycle Assessment (LCA) to identify the environmental impacts and ethical risks of our supply chain and our products throughout their entire life cycle. The results of the LCA combined with insight on our CO2 impact are at the base of our sustainability passport.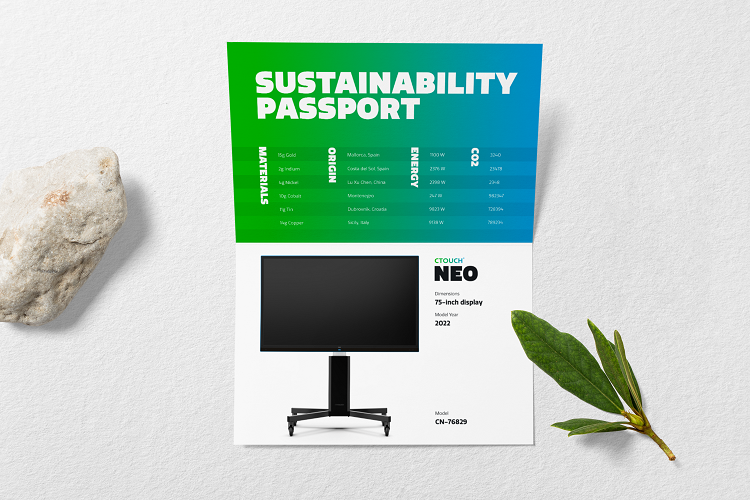 We are the first (and currently only) touchscreen manufacturer with a sustainability passport for our touchscreens. This includes a transparent overview in the materials we use, the CO2-impact of our solutions, as well as a showcase of initiatives we take to minimize our impact. The details of our passports come to life in our Sustainability Dashboard.

Together we achieve more
It's not just our products' CO2 impact that we measure. By gaining insight into CTOUCH's internal CO2 footprint, we already made substantial savings on staff travel emissions and energy consumption.
The CTOUCH office is 100% solar powered. We also measure our impact in our community. We are inspired by the United Nations' Sustainable Development Goals, having adopted four SDGs where we can make a real difference. These SDGs form the foundation of our sustainability policy and community activities. We've entered into various partnerships with, e.g., MVO Netherlands, Workplace Vitality Hub and JINC.

We also take responsibility for the impact of our suppliers on people and the environment. Therefore, we have mapped all important and impactful materials and their suppliers (Tier 2 and 3). Our key suppliers have signed the Social Responsibility Employment Statement to ensure that slavery and child labour do not occur in any part of our supply chain, and that a safe and healthy working environment is guaranteed.