Blog
12-05-2023
The 6 benefits of interactive touchscreens for your working environment
We no longer just work in offices. In fact, we increasingly work remotely and for longer periods of time. From home, at a flexible workplace in the area, in a local café, or even from the beach. Companies have found a mix between working from home and working in the office in different ways. This balances the advantages and disadvantages of working from home.
However, the need to collaborate has not changed. Whether in groups, with your own team, or with colleagues from other departments, working together can be a challenge. This is especially true when working remotely. How can you ensure that those working in the office can collaborate well with colleagues working from home? And what about all those creative ideas that emerged during a brainstorming session? How can you make sure that they are not lost when everyone is back in their own little room behind their laptop the next day?
Good technology is essential. The success of teams depends on the tools they are provided with to do their work. And that goes beyond just having a good laptop or monitor to share your screen. Touchscreens can add a lot to a hybrid working environment.
We have listed the six most important benefits of an interactive touchscreen in a hybrid working environment:
1. You get more interaction and engagement when meeting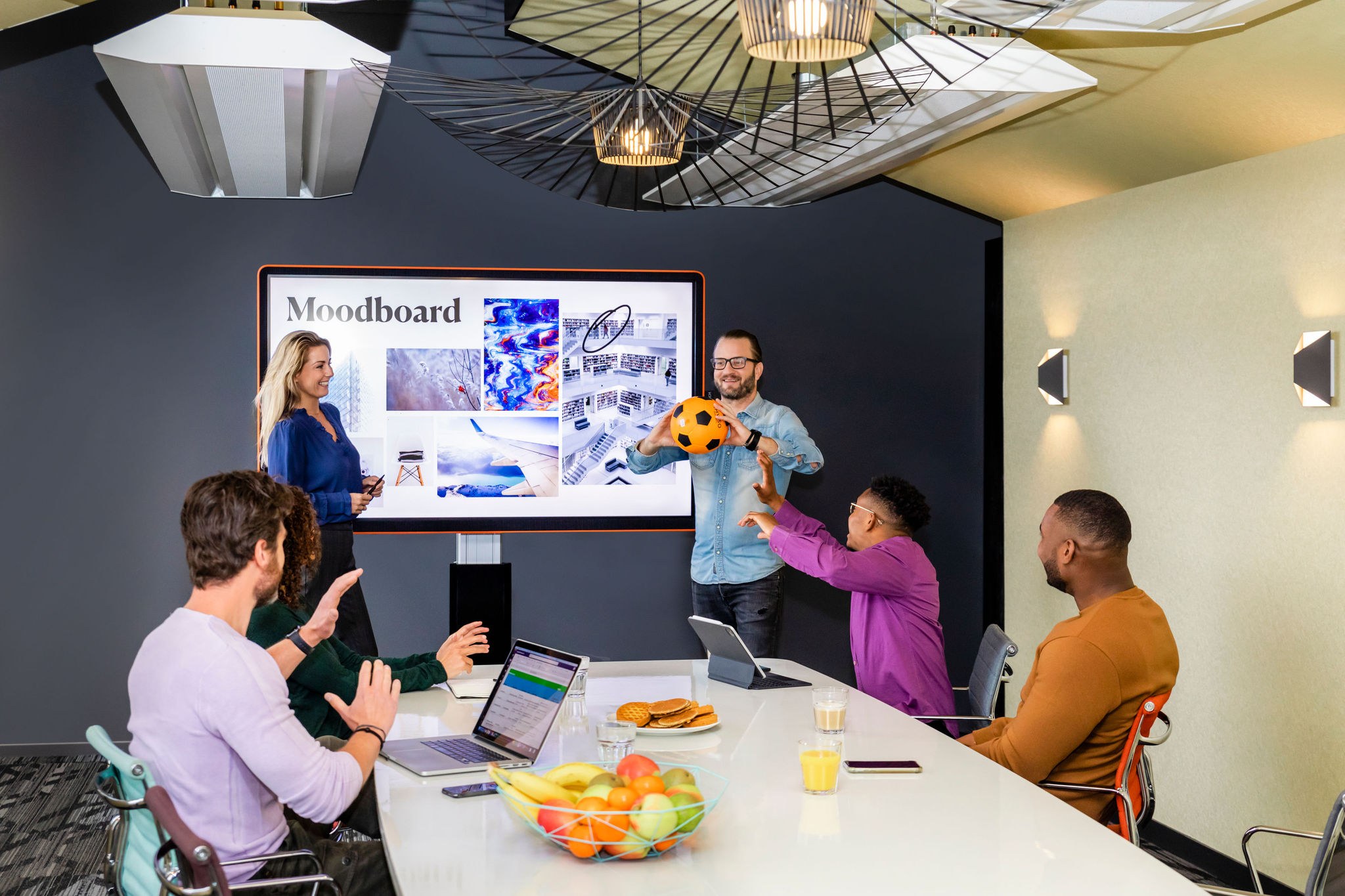 Be honest, how often do you check your watch during a meeting? And how often have you fallen asleep during a colleague's endless presentation? We feel your pain. With a touchscreen, you may not be able to change the quality of the speaker, but you can certainly improve the quality of the meeting. You have the ability to stand up and actively share ideas with colleagues on the digital whiteboard. You can swipe, tap, drag, enlarge images, and draw.
This provides a more intuitive and natural way of interacting with the content on the screen. This not only sparkles up the meeting, but also allows you to give each other insights into plans, ideas, and work to be done more quickly and effectively.
2. You'll present better
Do you sometimes struggle with a presentation on your laptop? No? Of course, you never have any problems with that. But your colleague certainly does, right? You see them sweating, walking back and forth from the presentation screen to the laptop every time they have to switch to the next slide. And there goes the connection again. Start over. "Oops, sorry, the laptop battery is almost empty, does anyone have a cable?"
Well, presenting with a touchscreen is much easier. You can smoothly play the presentation from the USB-stick connected to the screen. You can stand relaxed in front of the group and concentrate on your story. This gives a much more professional impression when you have to present something to a client or group of people.
3. Knowledge sharing and collaborating becomes more efficient.

Teamwork works better (and faster) when interaction is optimal. No problems with systems freezing, lost post-its, or projects that don't fit together well. A robust digital infrastructure is the foundation of hybrid working. And a touchscreen is the central digital point in your workspace. Unlike a monitor, with a touchscreen you can collaborate with multiple people at the same time, such as in a brainstorming or meeting room.
This way, everyone can contribute to that new project or important assignment, so you can really work towards results in the short time you have. Moreover, many collaboration tools, such as Microsoft Teams, Miro, and Trello, support touch. That's not without reason. Touch is particularly valuable for stand-up meetings and digital scrumming.
4. You save costs and space
Compared to a monitor or television, an interactive touchscreen can save a lot of space. After all, not every working environment has access to multiple meeting rooms, while the need to hold regular team meetings, for example, is there. With a touchscreen, you can work anywhere in your office. You can share the screen of your phone or directly open a web browser or other applications that allow you to bring your colleagues or customers into your story or message in an instant. This also brings cost benefits because you can start using workplaces multi functionally without the need for unmanned meeting rooms and empty furniture. So you are also doing something sustainable!
5. A touch screen encourages spontaneous results and freedom
Freedom? Ok, this may sound a bit strange. Let us explain. A touchscreen does not only offer advantages for scheduled (video) meetings. In fact, often the best ideas arise spontaneously. So how great is it to have a tool at your disposal with which you can make your brilliant ideas come to life ad hoc, on-the-spot, instantaneously and immediately? And also share them with others. And how nice is it to be able to put a schedule on the whiteboard during a short conversation and be able to set priorities? A touchscreen gives you the ultimate freedom to start a conversation at any time of day. And to seek interaction to share knowledge.

6. Your organisation becomes more attractive to employees
A nice salary and a pleasant working atmosphere are no longer the only important factors when choosing for an employer. More and more employees and job seekers indicate that the way of working is an important factor. And the use of modern technology is also decisive. Certainly millennials and younger generations are already used to digitalisation! They expect their employers to help them to keep developing their knowledge and skills in the best possible way. An interactive screen contributes to this tremendously.
Your hybrid working environment with touch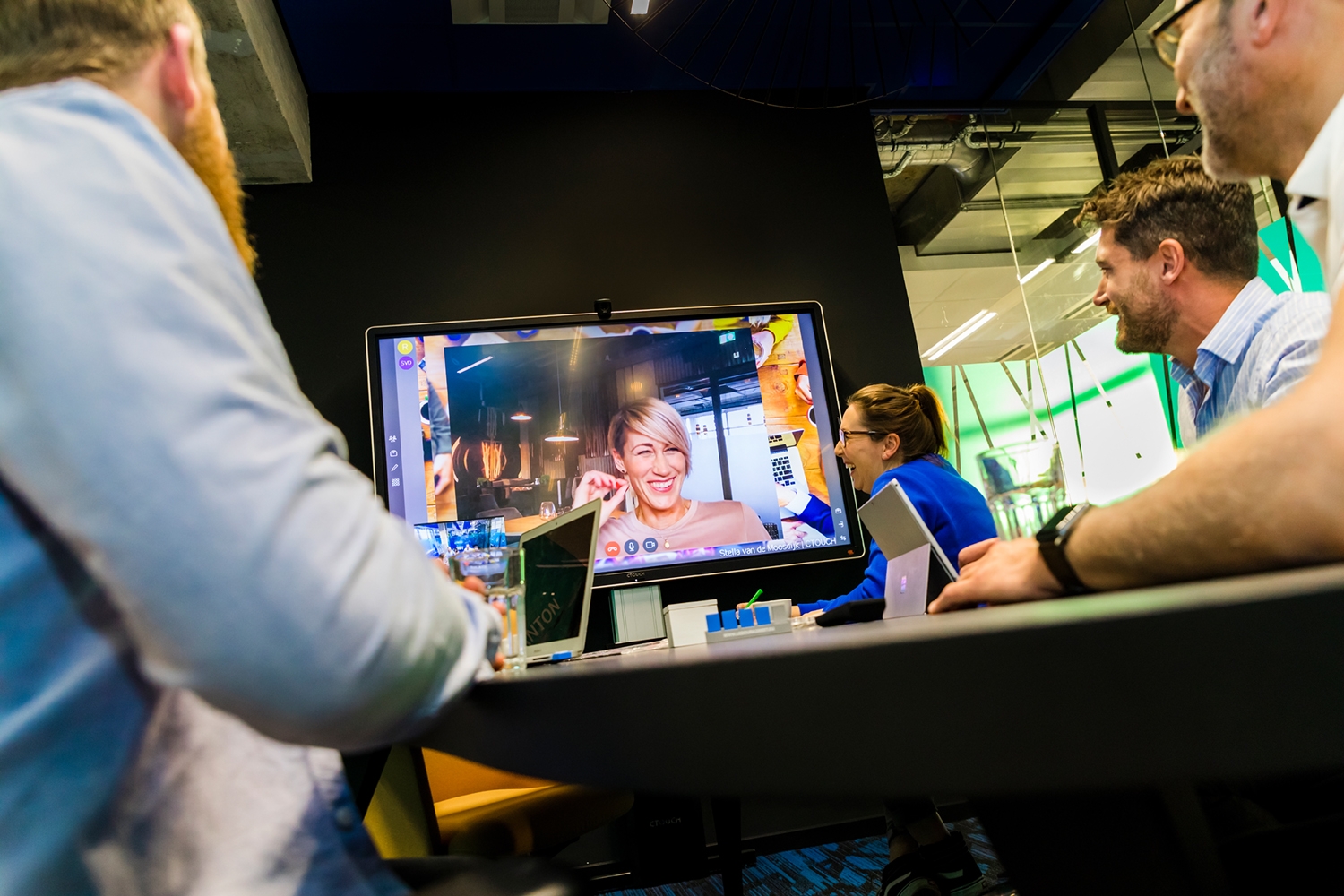 Social interaction is and remains need (and motivator) number one. And that is precisely where the added value of an interactive touch screen lies. Your hybrid working environment? That's where touch belongs!
Would you like more information about the advantages of CTOUCH touchscreens?